Launch
On 20th January 2021 we launched this publication. In keeping with our approach we saw the publication launch as part of the research process. It offered a chance to generate a greater variety of perspectives on Tensions as Strengths and to look ahead to how the National Science and Media Museum could play a role in Bradford's bid to be City of Culture in 2025.
To launch this publication, we invited everyone we'd worked with during Bradford's National Museum – all museum staff, key people from the wider Science Museum Group, and partners from across Bradford, Chicago and Washington D.C..
The aim was to share the ideas of this publication with a wider network. Together, we listened to perspectives from eight museum staff and collaborators who were involved in the project and people in leadership positions – Sir Ian Blatchford, Director of the Science Museum Group and Kersten England, Chief Executive of Bradford Metropolitan District Council.
Below you can read quotes from everyone's contributions. Their words allowed us to sharpen our understandings of Tensions as Strengths and helped us see how the ideas might work in the wider contexts of the relationship between local government and national government and of the wider Science Museum Group, where Bradford and the National Science and Media Museum are already influencing practice.
Museum Staff and Collaborator Perspectives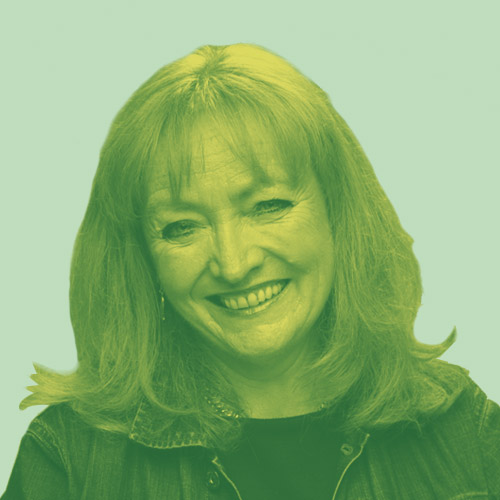 Mary Dowson
I've come to realize that the museum isn't just a building, it can't be. We don't build relationships with a building; we build them with people. But to do that we have to find ways to get to know people first and commit real time to doing that.
So I was really pleased when the notion of tensions as strength was proposed as the theme for the project publication. For me, tensions as strength suddenly makes complete sense of the many difficult moments that we've worked through together in this project. It also sees tensions as strength as an action. It could be the foundation for all the collaborative work between the museum and Bradford's communities.
If we openly talk about what the tensions might be, right from the start, acknowledge the power dynamics, different cultures and ways of working, and really appreciate what that difference actually gives us, then respectful, authentic, lasting relationships can be established. These relationships have the potential to be different from the more transactional relationships of the past. I see a partnership as a Venn diagram. And that bit in the middle where we really connect is the exciting bit and the bit that we always want to grow, and we can do this by actively building our knowledge and understanding of each other.
Acknowledging the tensions and seeing them as strengths is a real way of us moving forward together. So for me, the idea of tensions as strength is the real positive legacy from this project team that it hands over to the museum and to Bradford to develop a great future together.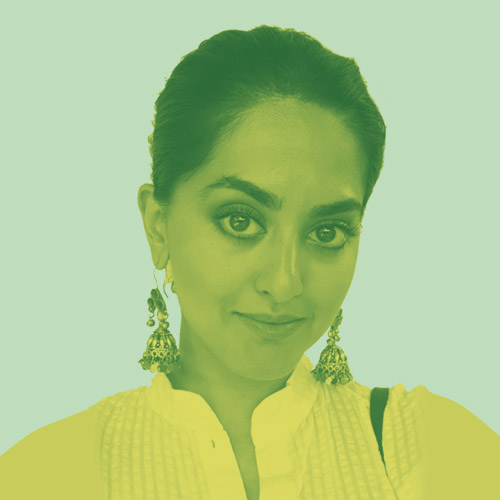 Pakeezah Zahoor
This idea of not being seen within the institution comes with an inherent contradiction as a person of colour in that space you stand out are one of few and always aware of this. At the same time you are invisibilised and unable to bring your true self into your work life.
I wanted to bring these reflections, speak them here and use them to think about the future direction of the museum, and also in my current capacity at Bradford 2025, to think more widely about the district. I think Bradford is also at this point now where it's demanding to be seen and to be seen for what it is and on its own terms. And I can feel that, and it feels really exciting. So, to think about where Bradford is going in relation to what my focus has been in these conversations, which is race, it feels necessary to say that the makeup of the city is changing, and we are moving to a 50% ethnically diverse population by 2025.
The Arts and Culture Sector will have to grow and adapt to accommodate and benefit from this shift. This is so that it is representative, but also to ensure the relevance and the continuation of the sector itself. If Bradford was to achieve this, it could be a leading example of how to take a predominantly white art sector beyond the limitations of a western normative experience. This is a national and global shift which we are presently unprepared for. Can we use it to our strength? This shift could well be an opportunity for Bradford to position itself as a district that is ahead of the curve. In order to do that, we need to better engage with our diverse communities now.
Can we sit down and really look at where we're placing our value and on what needs to change? It requires a harsh level of honesty and difficult conversations, which is why I like the positioning of future directions at the museum, looking at tensions as strengths. It feels like a way of reimagining inherent contradictions in being honest about our limitations. And I hope we then move towards ways in which they can be addressed and overcome. There's a radicality in saying we haven't done this and that this is difficult for us to do, and in being honest. I hear so much talk about diversity and inclusion with cultural organisations incorporating this language as a badge of their own achievement and progress. In this context, there's something really powerful about being honest, to holding up our hands and saying this is where we've fallen short. I trust in this more than false celebration, which bypasses the real issues that people continue to face. I'd like to end with the challenge and reminder that being honest about tensions should not become something that we hide behind or something which eliminates the notion of a responsibility that the National Science and Media Museum does have to the people of Bradford. It must be used as a point to work from in order to work towards doing better and doing more.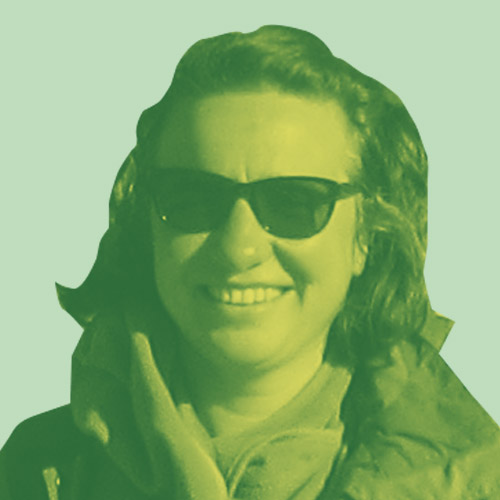 Gin Jacobucci
I've taken part in the project since it started about three years ago. Over the past three years, there's been two moments that have been incredibly significant moments of change for me, both on a professional and on a personal level.
Both of these moments have ultimately been moments of either counterpoint or open disagreement. It's been two moments where a colleague has very generously challenged me or openly disagree with me. And I mean generously, because it's not easy and never necessarily pleasant. Both moments were centred around the reality of race today in the UK, as well as implications of being a national museum and the baggage I feel we are responsible to deal with as part of our national history.
They were both very significant and real moments of change of perspective for me. And they were able to happen because through the project we had the space to reflect and discuss some of this issue. We have been able to reflect and confront our ourselves with each other and at times challenge our established ways of working within our hierarchical structure.
So quoting someone I met in Washington when I was very lucky to join the project trip to the US: I think we really need to become more comfortable with being uncomfortable and voice and welcome disagreements, rather than suppress them in favour of a silent consensus that often hides a number of unspoken realities. So, here's my call for more respectful disagreements for a way forward.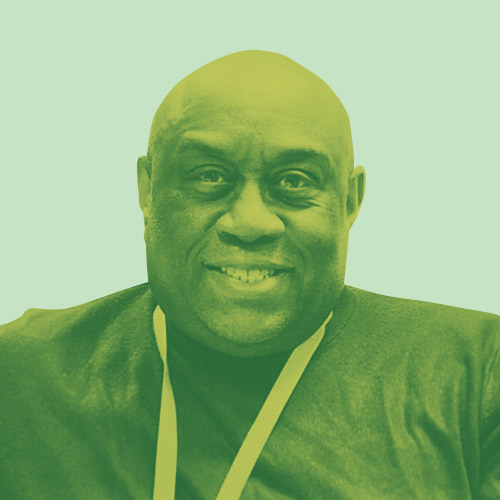 Andy Clarke
In terms of tensions as strength, the tension was me getting involved in this whole gig in the first place. But the strength was that I was working with like-minded people. And that was amazing for me. The reality was that I joined, and I was the only person of colour in the museum, working in an office role. And that kind of worried me a bit. I wondered where this museum was going to go and, as my moment says I, I banged the diversity drum. But it always felt as if it was 'a nice to have' in the museum. But it wasn't really one of the museum's priorities.
But here we are at the beginning of 2021. And 2020, I don't need to tell any of you, has been a year of massive change socially and politically. And the museum is now ideally placed to be at the crux of this change, locally and indeed nationally. Now we can now have a frank discourse, which we will hopefully look at the legacies of colonialism and continue the fight against racism. Now I am an optimist at the end of the day. I believe that things will get better, but we all have to try and do that. And this museum, this organisation, feels very different to the organisation that I joined four years ago – for the better. And as I said in my moment, everything aligned – the death of George Floyd, Covid, the advent of the Black Lives Matter movement – in a way that gave me an agency to move forward with some of my ideas.
And this is why I set up the BAME forum. So that employers, people from all walks of life, can come together and talk about those words which are really now part of our parlance in in work terms, unconscious bias, allyship, etc etc. These are words that we didn't have even a year ago in our vocabulary – now we have them.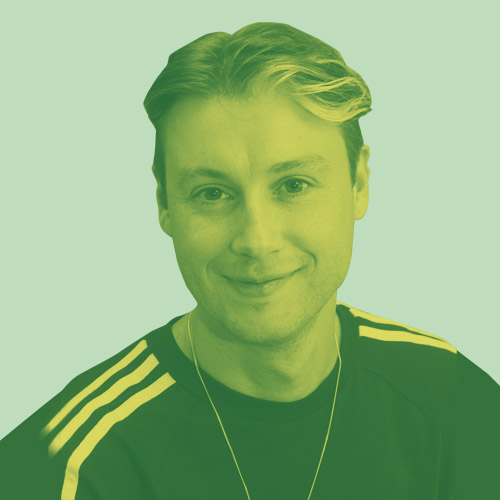 Si Cunningham
I just want to share a general observation or some observations on the notion of tensions of strengths and what that makes me think of in a wider Bradford context. I've recently been enjoying the Fran Lebowitz and Martin Scorsese series on Netflix, Pretend it's a City. I'm sure some of you will have been enjoying that as well. To me, it's an incredibly authentic love letter to New York that many of us who adore spending time in great cities will certainly recognize as it's full of frustration and simmering resentment. Fran is quoted as saying when people say to me why do you live in New York? You really can't answer them except you know that you have contempt for people who don't have the guts to do it themselves. There is for me just the right amount of tension in any true World City, and I mean World City in the sense that we're also proud of in Bradford. Or indeed in any civic institution. And this tension can be distilled to create something far more exciting, engaging and inspiring.
If you look at some of the things that we're most proud of here in Bradford, they weren't necessarily born from moments of relentless positivity. Worstedopolis, the great Victorian merchant city that made us famous was, let's be honest, a cradle of inequality and exploitation. Fred Jowett and Margaret Macmillan didn't pioneer free school meals in Bradford because they were bored. They did so because our children were starving to death. I'm wonder if David Hockney's mind would have wandered off to Bohemia if he didn't have to endure waiting for a bus at Bolton Junction in the dreary soot drenched Bradford of the mid-20th century.
My involvement with Bradford's National Museum project, as outlined in my reflection, meant having some very difficult conversations with people about Bradford's darkest days and being incredibly honest about what this city is. It was a reminder for me that out of adversity comes great strength, community leadership and the kind of grit and resilience that makes Bradford Bradford. I guess then the plea here for myself for that for my City of Culture colleagues, for everyone here today, for the museum and for us all really, is that we don't have to be saviours or fixers. We just have to be honest and authentic about the stories we tell, no matter how difficult they can be.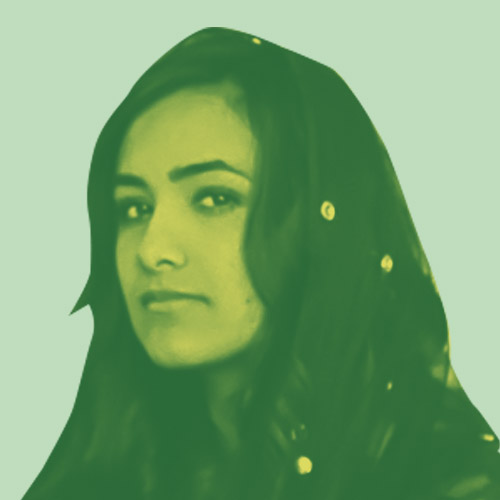 Sajidah Shabir
Since a very young age I came to visit the museum. I have a beautiful memory of an exhibit where you could read the news. Whoever I talk to they have the same sort of memories of the museum. Getting a bit older and becoming a teenager, I kind of fell out of love with the with the museum and I didn't have that connection anymore. Until the Above the Noise project when I had the opportunity of working with people from the museum, make new connections and tell my story. It was a really proud moment for me to sit down with my dad and talk to him about his life and be able to share it with everybody else in Bradford and be part of this beautiful collection of stories.
In my piece I wrote about the connection I saw between St George's Hall, the National Science and Media Museum and the Alhambra. For me they are all connected. I don't see the three buildings as something that are just separate from each other. I see them all collectively in terms of arts and culture. Growing up for me it felt like I was disconnected from all three and they didn't have a place for me. They didn't tell my story. It didn't feel like home. But through Above the Noise and getting to know the people there and, like Mary said, seeing that there's actual people there, people who want to do more, and want to connect with people more, I felt like I would be able to somehow drive the change that would happen. Change that would mean that younger people could feel like they could walk into the museum and see their stories and their history represented. That's what I see the museum doing in the future.
With the Tensions as Strength, that's what I mean. It is really important that we've notice that there's a problem. But how do we turn that around? And how do we positively and proactively make a change? The museum is such an integral building to Bradford. It's beautiful to look at, but in the inside it should also tell our stories. The people of Bradford giving love to these buildings and seeing how beautifully these institutions will flourish with people like us in it.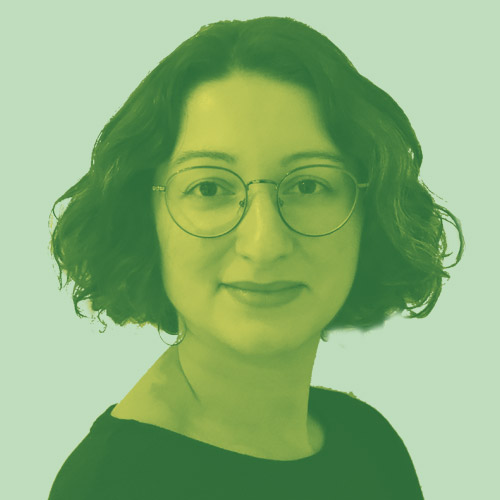 Sarah Ledjmi
I've written a few points in response to the tensions as strength idea. Because, even though I think it's really productive to work through those tensions and think of them as strength, I'm also looking for resolutions.
The last few months have made clear that the divide between life and work is completely blurred, between politics at home and at work. Viruses and statues are political and that museums definitely are not neutral.
There are three different directions that I think I really want to push forward. These are related to what I believe in – in my life, in my work – but also because these relate to what I believe the future of museums and cultural organizations looks like. So first, thinking about democracy and really thinking about what the word democracy means. I think to do that we need to experiment with different models that we borrow from other organisations and organizations locally that think about democracy and other countries so that we understand what it means to start sharing power. I think there's first step: thinking about devolution, thinking about consultation, thinking about more robust recording and reporting processes. That leads us to more democratic structures. Because it's got to be about changing structures. It's got to be about creating new governance models for us as a museum. So that would help us to formalize this community of interest that would hold the museum accountable and really challenge it and challenge how the decisions are made and who makes them.
And a second point is thinking about care, starting at home, really. Starting with care for colleagues and showing that what we value, first and foremost in the museum, is people. So it means that working in a museum is not a hobby. That people working here are not disposable. So one of the first ways I think, to make sure that we've got as wide a range of people joining us, and really crucially staying, is to think about better pay, progression and working conditions. So that means rethinking what outsourcing means, what becoming a real living wage employer could mean and how the museums employment conditions can align with our ideals as a museum.
Lastly, another direction that I think is really crucial is resisting national discourses at all costs. So that means that we need to refuse celebratory, uncritical narratives about British exceptionalism, and that we acknowledge that the past and the present are always inextricably linked, and they can't be separated. That's what's so exciting about being a museum of course. So that when we explore decolonial narratives in our stories, in our exhibitions, we also rethink what it means to give legitimacy to industries related to fossil fuel or defence. I don't think we share necessary the same vision as those industries for what we should do in the present to build a better future.
So that's just three points that I'm looking forward to because I think they are definitely the future of museums. That's what I think is expected of us, to join these conversations. I think it's what Bradford also expects of us. It's already happening, of course, with all of these conversations in the sector and our colleagues in Bradford. I really would like it for the Science Museum Group to be at the forefront of this work and to be really proactive in joining all of these conversations.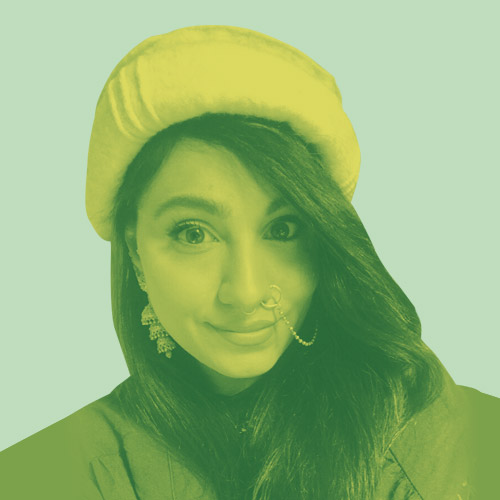 Nabeelah Hafeez
The dynamic between Bradford and the National Science and Media Museum has always been like a partnership and a relationship. And like any good partnership, integrity, respect, open communication and continued learning is so, so important. And it's like what Khalil Gibran says about the strings of the loot being separate but playing the same tune. I think it's so important in our reflections here and to move forward. I think there are so many differences that we have to navigate. One thing I did want to highlight through the poem is that there are differences that need to be embraced and by ignoring them we ignore the real problems. But by embracing them there's integrity and authenticity in how we move forward.
I think that there are going to be challenges, but through our conversations, both with yourself (Jo) and with the colleagues who I have travelled with (on the U.S. trip), I think there has been progress. No doubt there is continued needed, but already we have a foundation here. And in the future generations will look back at this as being a really crucial turning point in the history of the museum. I think one thing I will say is that more open and honest conversations are key, and integrated conversations, and also approaching our challenges with integrity. I've already seen that being done and I'm so excited to have these continued conversations.
Ian Blatchford, Director, Science Museum Group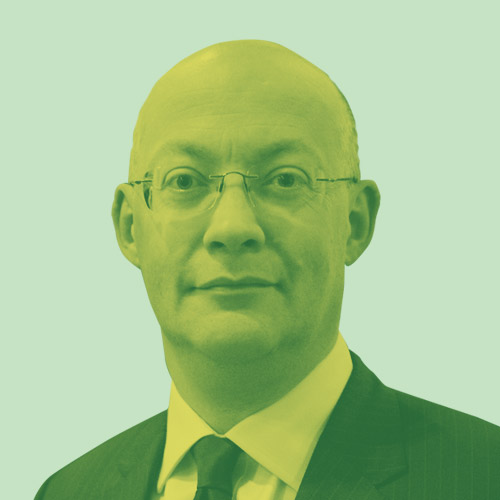 Ian Blatchford
It has been excellent to hear from some of the people involved in Above the Noise because I really loved that exhibition. It was incredibly moving. I would say 99% of time when I go into a museum I know what I'm going to see and Above the Noise was so different from the standard museum experience.
A word that recurs throughout the speeches is honesty. But actually the keyword, which I don't think I've heard many people saying, is progress. How are we going to turn the lessons from this fascinating project into a leading role for Bradford?
A point I want to stress – and is the thing that people don't necessarily see – is that so much of what the National Science and Media Museum does has a big impact on the wider Science Museum Group. Just to give you two examples. I have spoken to my colleagues across the group about how Above the Noise was a lesson for the whole group in terms of a different approach to programming and to audience collaboration. I also talk to people about the Yorkshire Games Festival, which is a very new venture. The gaming industry is not only booming enormously, it is a big part of many people's lives. The National Science and Media Museum is doing leading work in this area. I also want to mention the importance of always remembering how, despite all the challenges, our hopes and dreams can be remarkably common and unified. When Tim Peake's Soyuz Capsule came to Bradford thousands and thousands of people came to see it. None of them really cared whether the National Science and Media Museum was a national or local museum, what they cared about was an object that was so beautiful and so inspiring that it spoke to them enormously.
For Bradford gearing up for the City of Culture Bid for 2025 I think one of the things that really strikes me is how important it is to concentrate much more on the values and character of the people that have spoken today rather than just talk about institutions such as museums. That will be the winning formula for the 2025 Bid.
Biography:
Ian is the Director and Chief Executive of the Science Museum Group, which oversees the Science Museum, London, the National Railway Museum, York, Locomotion in Shildon the Museum of Science and Industry, Manchester and of course the National Science and Media Museum, here in Bradford. Ian has transformed the Science Museum Group since his arrival in 2010 with all of our sites seeing significant investment and masterplan developments. There has been much recognition for his work, including: being awarded the Pushkin Medal in 2015; in April 2017 he became Chairman of the National Museum Directors' Council. And he was awarded a Knighthood in the 2019 New Year Honours for services to Cultural Education.
Kersten England, Chief Executive, Bradford Metropolitan District Council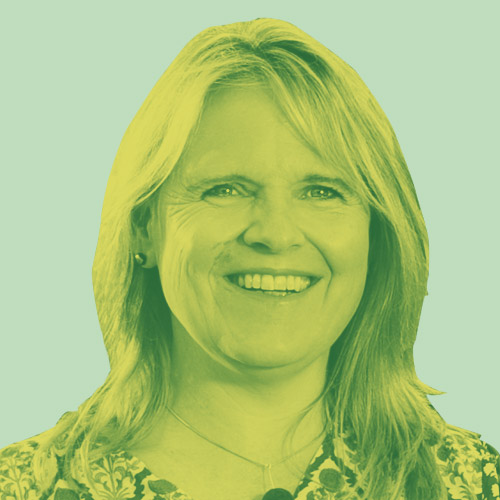 I'm very proud to have the National Science and Media Museum in our city. I'm very committed to the museum remaining a thriving, flourishing institution that is of national and international significance as well as being deeply connected to place.
As I was listening to the discussion, I thought what you're describing so reflects so much of my world as a chief executive in local government in one of the most centralized states in Western Europe. We're on a constant journey to get the right collaboration between national and local government. That's a messy business, and maybe one of things is to accept from the start is that it is a messy business. I think we need to accept that there will be tension. At times there won't be absolute agreement or alignment of agendas, and it ebbs and flows. But it's critical that what we're seeking is that balance and productive energy. The relation between the museum and the Council has itself ebbed and flowed in the past. But right now it is a good and flourishing relationship born out of becoming more understanding of one another and the parameters that we are working within.
But I would suggest that we need to look at this issue not just as a binary one between national and local. I was really interested in what Sarah Ledjmi said when she talked about national discourses and British exceptionalism. I think too often there has been a kind of casual assumption that national means high-quality, of great interest, of significance and the local means the parochial, the more narrow and more inward looking. I think that we should be wary of inhabiting that kind of binary position. That's a very kind of Western failing to see things as good/bad, right/wrong, national/local, culture/science. All these binary oppositions, that we sometimes live our lives by, do not always serve us best.
At the sharp end of COVID, we need to look at what has happened for the communities of Bradford. This pandemic has ravaged the lives of too many people in our poorer communities. In our Black, Asian and minority ethnic communities, too many people who are key workers and we are a key workers economy. As we go into a period of recovery those things have, as we've observed across the nation, real potential to divide and fracture us. What we must do is commit to a journey of recovery and renewal that unites us and builds the conditions for prosperity and for the flourishing of all peoples of the Bradford district. And that's why the forefront of everything that we will be doing will be a passion for inclusive and sustainable recovery and growth. And I think that the museum has a very significant part to play in those agendas.
I'll just touch on the three kind of key opportunities for us to work ever more closely together.
The first is around education, employment and skills, which is an area in which the museum and the local authority and the University and other partners have done really good work. But we need to really make that connection between that early inspiration of young people, their acquisition of key and critical skills and their pathways into employment. As part of this, I would love the museum to talk about STEAM as much as it talks about STEM because I think that kind of fertile connection between culture, science and technology has huge potential, particularly in a place like Bradford, to support our young people to move into prosperous futures.
The second is about around the place-making of Bradford. We've already mentioned key infrastructure investments that will see the city centre transform and change over the next 20 to 30 years and the National Science and Media Museum is set right in the middle of that context, with a huge part to play. This means taking your place alongside the Alhambra and Bradford Live and becoming a real stakeholder guiding, shaping and influencing how we inhabit and use our city centre.
The third thing for me is, as many of speakers have reflected, around the confidence with which Bradford takes its place in the world. I think Si expressed it beautifully when he talked about world cities. New York also isn't a capital city and my ambition is that we can move beyond that notion that London is where it's at. All our great cities in this country make contributions to the world. And I think the National Science and Media Museum can support us enormously through your global and international reach and with your deep roots in the place of Bradford, with the peoples of Bradford and the diversity of Bradford.
I do want to just reflect finally on something about the museum telling the story of the people of Bradford. I want to relieve you of the burden of that because I think some of their expectation comes from the fact that there is nowhere currently where the stories of the peoples of Bradford is probably curated and brought together. We have an abundance of stories not yet told and presented to the people of Bradford. We are going to explore in a museum for the people of Bradford in due course, which can sit comfortably alongside the content of the National Science Media Museum.
Biography:
Kersten has been the Chief Executive of Bradford Council since 2015, having held the same post in York from 2009 to 2015. Under her leadership the District has seen a period of economic growth, inward investment and delivery of major capital schemes, despite a backdrop of dramatic reductions in central funding for local government and huge pressures in the delivery of social care and health. She has lead roles on innovation and growth within the Leeds City region and is passionate about supporting civic leadership and community capacity building. She was awarded a CBE for Services to Communities in 2019.
Responses to Tensions as Strengths
We asked people:
We've outlined the ideas behind Tensions as Strengths, what questions does it raise for you?
Who, what and where is the Bradford the NSMM is addressing? At what different scale(s)? What are its complexities? And what tensions arise in terms of the power relations at work between NSSM and different Bradfords?
As an architect, an early bit of learning was that the best projects, from the best briefs, come from situations which are complex, which contain tensions which have to be resolved, balanced, acknowledged. That can mean simply "dealing with" some, but positively "celebrating" others. So – question – how do we shift this approach and confidence to other situations?
It's a good framework. However maybe we need to be careful, in acknowledging that tensions are a real and ok part of the project, of the danger not taking action or committing to making changes needed.
I find the tensions/strength concept very tantalising and hopeful. I think it requires trust, hopefulness, openness, patience, a sense of interdependency and relationality, creativity and imagination to work this productively. It is an ongoing process, never complete, not a product and requires intentional interactions, responsible communication, admittance of not knowing and vulnerabilities.
I find the tensions to strengths concept refreshing and uplifting. Applied to people, the concept for me is about going further than just recognising that difference exists – it's about celebrating difference, celebrating the possibilities this can bring and about building connections based on this notion.
I'm interested in the mechanisms that will lead to change. As a participant in the project I found people, generally at the making things happen level, determined to make change and another invisible layer of people at the Museum who were tied up in the way things have to be. A force for continuity, for remaining within the top down structures which controls the decision making. A very clear and fundamental tension between unequal powers.  What is the process that will change this? Secondly, how will resources be apportioned between the National agenda and the local call for representation and visibility? Power and money. Same old story. How do we change the way these are used?
Is the national local dichotomy useful? What about macro-micro histories that blur across one another?
I like what Sarah Ledjmi says about deconstruction of concepts and narratives, sharing of power, and caring to help shape a better future.
Ideas for the National Science and Media Museum and Bradford 2025
We also asked people this question:
It is 2025 and Bradford is City of Culture. Inspired by everything we've discussed today, imagine you are walking into the museum what would you like to see?
A whole variety of ideas came up from getting rid of the five lanes of traffic between the museum and city park, to a 'huge livestream of critical histories' to a celebration of the 'youngest city with most potential'.
A space that is multi dimensional awakening my 5 senses exhibiting real lives and stories.  Real people and places in time.  Using technology to celebrate and appreciate the differences attract me to explore the parts I feel "fearful" of and to embrace the previously unknown.

We are so the same but take diverse journeys to get here today and need to tell and hear these  wonderful diverse stories Truthfully and embrace the subtle differences that make  us all so rich !!!  Do not be ashamed to tell me be honest!

Althea Thall, Storyteller