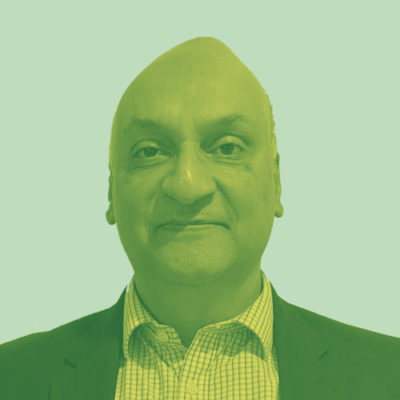 Aamir Darr
Voices of the present need to be informed by those from the past. The public narrative of Bradford needs to be animated by wit, passion and an irreverence for orthodoxy. The currently voiceless need to feel that their lived experience of Yorkshire grit — framed through multiple tongues and journeys and fuelled by unbridled optimism and pride in their city — resonates in public debate and underpins fundamental decisions about their future wellbeing and that of their neighbours.
Nowhere is this better illuminated than Granada TV's 1967 documentary 'A New Kind of Match', which echoes a gruff, direct but warm and embracing outlook of locals. In this programme, Mohammed Baig entertainingly holds court in the Sweet Centre on Lumb Lane — confidently, almost mischievously, flipping questions on his interviewer about problematic issues of employment, engagement and representation. These are matters that are still salient and unresolved to this day, but that most Bradford/British Pakistanis still don't feel comfortable articulating in public. Free licence is given to multiple counterposing realities. A teenage Pakistani girl speaks with fire about her experiences, challenging contemporary perceptions about young Muslim women being denied the freedom to express themselves. The white British shopkeeper displays a benign warmth to his Asian customers and the opportunities they've afforded him. To him the pig's trotters to lay off the hangover for Caribbean men and other previous unknowns are all good trade. This attitude is more representative of humane everyday interactions than the differing roles of the council leader, doctor and sociologist, all white authority figures. People need to know and talk about Bradford's history, a history that represents an authentic warts-and-all reality.
We used the film with National Science and Media Museum staff to talk both about Bradford, racism and whiteness. In general, I recall it as a very positive discussion. One Asian member of staff who grew up locally felt empowered to make many crucial points. For many white staff it was new information, being slowly digested, the gears turning in their heads. One member of staff was more defensive and wanted to deflect the discussion away from race. The willingness to talk about race and about whiteness has evolved significantly in the interim, but this was a very necessary first step, seldom offered in the history of Bradford institutions, to think critically and without fear of censure.
A decisive step off moment for me was when Sarah, Gin and others returned from Chicago and Washington. At the Bradford's National Museum Network event at the Friends Meeting House, Sarah mentioned race in her introduction, I'd spoken very briefly about the power of individual discretion if exercised with clarity. I was still slightly overwhelmed by Sarah and Gin making a beeline for me as soon as the meeting ended. I always feel humbled when someone makes that step, a rooted and humane connection, that I can help to facilitate. I had to quickly temper their enthusiasm, laying out the context that this was a long, but not insurmountable haul. However, despite the setbacks in developing the conversation on race, this was real progress. The Bradford's National Museum staff group has been picking people up along the way. Two or three, then four or five and now there is a dozen. And in a place where there is 100 or so staff, a dozen with a sense of purpose are sufficient to inspire others to change the landscape.
Read responses to Aamir's moment
Aamir Darr's bio
I've lived in Bradford since 1963. I work across the country, and feel Bradford is globally unique. Its richness and complexity isn't recognised as a positive narrative by institutions in the city and beyond. Many of the residents of all communities possess an enormous pride in the district, rooted in cherished memories of family, friendship and gritty struggles those relationships have allowed them to endure.
I'm all about progressing the conversation to embed an authentic reality of Bradford. To create publicly validated spaces where people can challenge established orthodoxies. That recognises the abundant human capital and history of the area, and the promise it's capable of delivering for our future. As a member of the research steering group, BNMP has been a step in the right direction, where a major organisation has honestly and critically, sometimes messily, evaluated its practice on racism and inequity.
I've been active in public life for over 40 years but have worked with DFE, DFID, OFSTED and many other national bodies as an education/diversity consultant, advisor, lecturer, researcher, trainer and independent specialist bookseller on racism and inequity. You can reach me at multiculturalbookshop@gmail.com