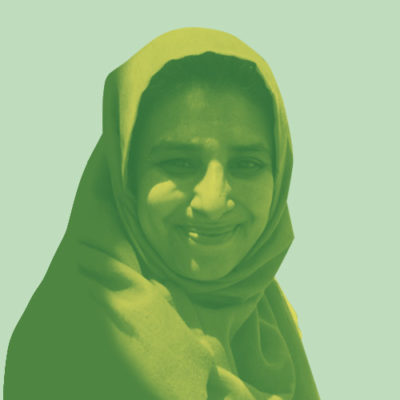 Wahida Shaffi
My relationship with the museum extends over three decades as a visitor, occasional collaborator and critical friend. In 2019 I worked with a group of women on the 'Islamic Soundscapes' story for Above the Noise, alongside Professor Sean McLoughlin from the University of Leeds. The aim was to influence and co-design a final exhibition/story highlighting the everyday uses of technology to mediate Islamic sounds in the home, mosque, city and wider world.
We all valued the opportunity for collaboration and saw the potential of the museum to do something different.  As Muslim women we also recognised that the intersectionality of our gender, faith and class shapes much of what we hear, feel and see. We discovered that speaking another language, sharing similar experiences, or identifying with gender struggles to access institutions, enabled distinct forms of knowledge creation or cultural production that may not otherwise be possible.
There was a general feeling after the launch of Above the Noise that much more could have been achieved by the museum to capitalize on the work to develop the stories. There was momentum, ideas were being shared by experienced community activists/organisers and relationships were forged, which could have been built on to go further, faster. It can feel like extractivism if the momentum wanes. It can result in people being reluctant to participate in the future, if they feel their experiences and contributions are not being valued. The challenge is breaking out of these cycles of hope and disappointment.
Above the Noise exhibited multicultural diversity in the history of Bradford and was meant to enable communities to own their own stories. Yet the structural make-up of staff at the museum itself meant there was a disconnect. The lack of staff diversity was immediately apparent when I was asked to facilitate a table discussion at the National Science and Media Museum staff away day. Non-extractivism means taking urgent, intentional action to be more inclusive; having a diverse workforce that better reflects the communities museums serve. It also means fully appreciating the richness and depth of knowledge and expertise being shared by those who take part in exhibitions like Above the Noise and taking the necessary steps to nurture these connections. Otherwise, museums run the risk of tokenism and a processes-driven creative approach that never really results in any meaningful or lasting systemic change.
So what is the role of the museum in the current context of Black Lives Matters and renewed calls for greater equality, equity and social change in all spheres, including the workplace? Well, museums have a pivotal role to play and cannot take an isolationist approach. They need to reflect critically on their role in society and take the necessary practical steps to address the lack of diversity within their own institutions structures of power and influence, staffing, access and audience participation.
I am always hopeful – but my history with the National Science and Media Museum leads me to constructively critical reflections. The willingness to exhibit 'Islamic Soundscapes' showed us that the museum is able to move beyond the safety and comfort of conventional, Eurocentric stories about the received history of science and technology. Research and experience tell us that sustainable community connections enable richer insights, innovative ideas and robust collaborative partnerships. The National Science and Media Museum also has access to incredible cinemas and spaces that can be opened up far more to the wider community, helping to facilitate a richer conversation about a shared location in Bradford. Austerity, the pandemic, growing racism and xenophobia and movements for social change have forced communities and organisations to be more resourceful, to challenge hate and reach out from beyond the familiar and comfortable. Museums must do the same.
The lessons learned from this three-year collaborative process provide an opportunity for the museum to be bold, to look inwards as well as outwards, and make the urgent and necessary changes that are required to move forward in an open and inclusive way. Otherwise the project will just be another missed opportunity.
Read responses to Wahida's moment
Wahida Shaffi's bio
I live in Bradford and have over 20 years' experience of working with diverse communities from across the UK. I am a qualified Social Worker, Vocational Assessor and Trainer and author of the book Our Stories Our Lives: Inspiring Muslim Women's Voices, published by Policy Press.
I completed my MA in International Politics and Security Studies at the University of Bradford's Department of Peace Studies. Since then I have delivered training, completed research and produced films related to equality, diversity, participation, gender and conflict and interfaith communities in local and international contexts.
Before becoming the National Director of the Near Neighbours Catalyst Programme, I was the West Yorkshire Coordinator. I also held the position of National Women's Programme Lead for the Christian Muslim Forum; pioneering their national women's programme; conducting research and exploring the issues affecting women of faith across the UK. I co- founded the Muslim Women's Council in Bradford.
I am currently a PhD candidate at Leeds University in the department of Philosophy, Religion and History of Sciences.