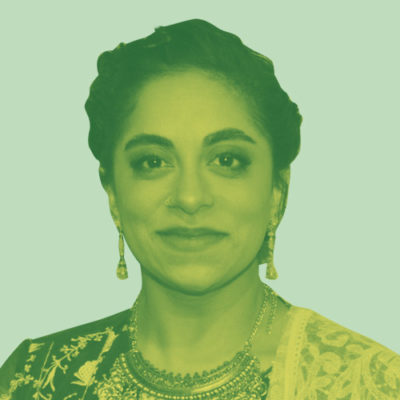 Naureen Khawaja Hafeez
One of the key things about being part of the Above the Noise: 15 Stories from Bradford exhibition for me was the process. It was the first time I got such a big commission, and it was from an arts organisation I had valued since I was very young. It was massively important to me, and also nerve-wracking. I wanted to do it all so perfectly.
We worked with one of the curators to develop our artwork. She gave me the freedom and support to create pieces that I am proud of. Being part of this helped me understand how to work for larger corporations and organisations, and how to advertise myself as an artist.
The National Science and Media Museum opening up their walls to local artists of colour was a crucial step in feeling like we can access these spaces. The way we worked together was about democratising the process of creativity. That is why I made this drawing of me working on my artwork at my desk. I don't want people to think that she is an amazing artist, but rather that we all work in the same way, we all have to do the messy process of creating art. Because of the way we made this exhibition my local practice could be exhibited as part of a national story. It was a local exhibition – by the people, for the people – but by being more local, it also became more national.
I feel, though, that the museum missed an opportunity to really connect to the communities it was representing. It still felt very closed-off in some ways. For example, there was so much on social media about the exhibition and people posted about my artwork, but the museum didn't tag us, didn't connect into our existing social media circles in Bradford. It would have been a great way to make local connections and make the stories of Bradford more visible.
It was also an opportunity to build a community of artists, but at that time it couldn't happen because all the artists were so focused on getting the work done in time. I'm hoping this could be something that still happens in the future. NSMM could be an open platform for anyone who is creative.
Having my work displayed on the walls of the National Science and Media Museum was something that I am really proud of. I feel a renewed sense of pride and confidence in myself and my art thanks to collaborating with people at the museum. I hope the museum will continue to open up and work in this way.
Read responses to Naureen's moment
Naureen Khawaja Hafeez's bio
Hi, my name's Naureen. I am a freelance illustrator and writer. In my spare time I work on my graphic novel and honing my craft.
Illustrating has really opened doors for me, and it's something I'm very grateful for, from working with established poets and playwrights, to being commissioned by the National Science and Media Museum. I am a second generation migrant and I use this to influence my work and storytelling.