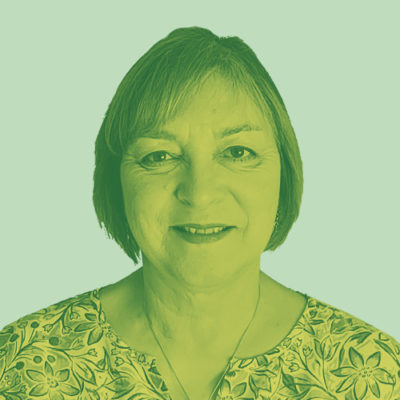 Barbara Hladowski
The opportunity to work with Bradford's National Museum on the 'Above the Noise: 15 Stories from Bradford' exhibition came out of the blue and was totally unexpected. It encouraged me to collaborate with my son, Chris, who had made the initial contacts. We were able to gather information and reflect on the life and work of Roman Stefanowski and Anatol Krakowiecki, my father and the father who adopted him after he was orphaned.
The museum staff and project representatives facilitated personal meetings which helped us to recognise and appreciate the impact our forebears had on Bradford and the wider world. This included social gatherings where project participants exchanged ideas and stories. But the most striking element about the project was that we, as participants, were able to shape the process, directly influence its direction and that of future projects. The personal meetings were the most productive and thought provoking. The social gatherings were useful in understanding the diversity of the project, the broad expanse of ideas and stories, and the ethnic backgrounds represented within it, with a relaxed, informal feel and a spirit of openness and collaboration.
My mother Urszula had retained all my late father's personal, political, and journalistic documents, and those gathered as guardian of his adopted father's estate, which helped me and Chris enormously. I was aware that some of these existed but not the depth of the collection, nor the full details of its contents and the history it contained. Added to the documents were personal observations from those living through extremely difficult, although interesting times.
This journey of personal discovery has instilled in me a desire to dig deeper and learn more about their past and that of others. It re-ignited a sense of wonder and admiration for those who have gone before us, a feeling which was reinforced when viewing the other stories within the same exhibition. Whilst the stories were all very different, it was evident in all of them that the personal and often tragic circumstances of individuals have a profound effect on future generations.
The follow-up article 'From Kraków to Bradford: A story of two Polish journalists' written by my son Chris Hladowski expanded on our personal family story. This was seen internationally, with images used in an article by Jerzy Autuchiewicz from the Historical Research office of the Institute of National Remembrance. We have also established contact with the Siberian Memorial Museum. The journey continues…
…It is a journey I wouldn't be on if I hadn't collaborated on this project at the National Science and Media Museum. I hope the museum will enable many others to work in this way. I, myself, look forward to building my own knowledge, and sharing ordinary yet amazing lives with others.
Read responses to Barbara's moment
Barbara Hladowski's bio
I was born in London to first generation Polish political refugees, forced to abandon their homeland as a result of the Second World War. My parents wanted me to integrate into the English way of life but also to retain my Polish roots. An only child, I was unable to speak English until I started school, and we were now living in Queensbury, West Yorkshire. I attended Saturday morning Polish School in Bradford achieving my Polish 'A' Level. As a young adult I was a member of the Polish Ex-Serviceman's Club and joined 'Podhale', a Polish national dancing group. Married at the Polish Church in Bradford to George, also from a similar background, I taught the Nursery class at the Polish Saturday school whilst my own children grew up. After drifting away from the Polish Community I started to take a greater interest in family history and as my parents grew older and later passed away I was lucky to inherit a very large archive of material. I have discovered a passion for sharing their story with others and have further material yet to document. My recent retirement allows me to progress with this project.