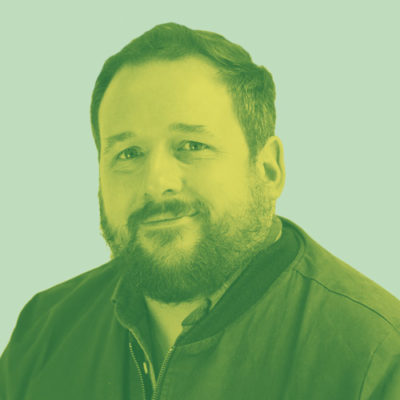 Andy Abbott
I am one of the local creative practitioners who were involved in the Above the Noise: 15 Stories from Bradford exhibition. My contribution was developing an area in which visitors could share their favourite 'Common Spaces' in Bradford by adding them to a participatory map. Common Spaces are those places where people gather and feel collective ownership or a sense of belonging.
The response was great. We had hundreds of contributions that ranged from long-gone cafes, public beauty spots, libraries, pubs, schools, galleries, social centres and even underpasses and alleyways! The ever-evolving map helped to portray a city with a great sense of pride and revealed the 'cultural dark matter' that often goes overlooked or underappreciated.
To trial our mapping system for the exhibition we ran an event at Bread & Roses, a café and co-working space on North Parade. The event worked really well. It was great to bring the museum out of its building and into the city. We explored doing a similar event with existing youth spaces, which proved difficult because of organisational constraints on the museum side. The experience to me showed the need, potential and difficulties for the NSMM to reach out and connect with audiences or communities that are not already reached, by going to where those people are. I know the museum wants to attract more young people to visit and engage with the museum, which makes sense with Bradford soon being the youngest city in the UK. What potential is there for doing more of this connecting in Bradford in the future?
Working with the museum gave me an insight into the large scale and slow pace at which institutions of this size operate and made me question how spaces like the National Science and Media Museum can work with their audiences as co-producers? I remember that Jo Quinton-Tulloch, the museum's director, mentioned in her speech at the exhibition opening that Above The Noise: 15 Stories from Bradford was a 'quick' exhibition. But of course, in relation to other exhibitions and initiatives in Bradford it was massively resourced in terms of time, staff, materials etc. Does the museum now have an appetite to continue to work in this more fleet-of-foot and responsive, more 'Bradfordian', way? Can it see the benefits to this approach with regards to becoming an 'embedded' organisation?
My experience reminded me to look again at museums that are attempting to rethink the role of the museum as a civic space, and at local organisations like South Square Centre in Thornton and the 1in12 Club, who are firmly rooted in their local contexts. What learning can be gained from these examples and applied to a (common) space as important to Bradford's cultural landscape as the National Science and Media Museum?
Read responses to Andy's moment
Andy Abbott's bio
I am an artist, writer, curator and arts organiser who lives in Bradford, West Yorkshire, UK. I am currently Visiting Research Curator of the UNIDEE Residency Programmes for Cittadellarte Fondazione-Pistoletto in Biella, Italy where I am delivering a hybrid programme of remote and situated learning for international artists exploring the theme of 'embedded arts practice in a post-pandemic future'.
I have exhibited and performed internationally as an individual artist and in various collaborations including the art collective Black Dogs. My most recent work explores the role of digital and virtual experiences in social practice, including verbatim video-games exploring the Future of Work in post-industrial UK towns.
In 2012 I was awarded a practice-led PhD from the University of Leeds with a thesis on 'art, self-organised cultural activity and the production of postcapitalist subjectivity'. My research interests are in Do-It-Yourself culture, artist-led initiatives, alternative economies and postwork futures.
As an arts organiser and curator I have produced a public programme for the embedded arts organisation In-Situ in East Lancashire, piloted a Centre for Socially Applied Arts at University of Bradford, and was a director of the Community Interest Company Art in Unusual Spaces.
Twitter/Instagram: @zadanzig