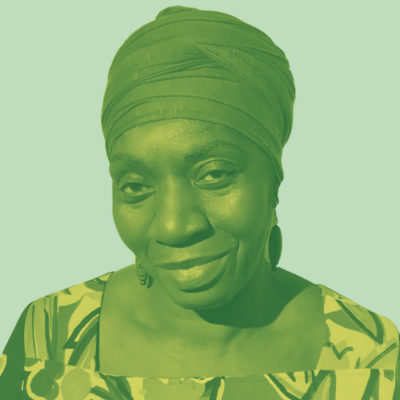 Maureen Rowe
Being asked to write this piece, I sat down to reflect on how I have engaged with the museum over the years and whether I have seen any changes happen, any progress being achieved.
I have been a regular visitor in the past. I have also collaborated with the museum on a few occasions. With my job as a youth worker, I worked on a WW2 generation video project with a group of young people. Several years ago, I participated in a project with my family. The museum had an artist in residence at the time, Julian Germaine, who took a picture of five generations of the women in my family. The portrait was part of an exhibition in the museum. In preparation we met a few times to discuss the processes and the style of photography. While that was an important piece of work, it was so different from being part of Above the Noise: 15 Stories from Bradford. This project allowed me to be reflective, learn new skills, and feel very much part of the exhibition-making process that was taking place.
Fast-forward to the exhibition opening and that breath-taking moment when I had that realisation that it's real — that I, as a black woman, am represented in the museum, have my pictures on the walls for all to see, capturing the journey I have travelled as a woman with Jamaican heritage, and am still travelling.
Hopefully, this will encourage others from marginalised groups, who are new to the experience to see themselves and their culture in a national museum, to see it as a given, and task the museum to do more, be more inclusive. I had a moment of thinking, if we can be part of such an important piece of work, why did it take so long to be included? There is a need for the museum to look outwards in terms of their community programming and allowing marginalised communities to have a voice. The museum needs to embrace the rich and diverse cultures of its surrounding communities and allow visitors to experience this through their programme. For this narrative to move forward, we must explore people's vision of the museum and make it an institution that reflects the ever-changing society we live in.
Due to the success of this exhibition, there is a great possibility of moving forward with the equality agenda and positive representation for all.
Read responses to Maureen's moment
Maureen Rowe's bio
I have always had an interest in different art forms, whether it was visiting the museum or the theatre. I have always enjoyed the narrative and the journey that can be taken visually – the powerful messages that can be relayed through photographs. I have always been conscious about the connections between having only two photos of myself as a child and the collection of family photos.
I have participated in several projects within the museum such as the Five Generations project and Above the Noise: Fifteen Stories from Bradford. Above the Noise gave me a renewed interest in the preservation of my family history and my journey from Jamaica to England. The use of photos to tell my story was a powerful experience. The ability to travel through my life's journey – preserving and building – is a testament of how important this art form is.
During my professional career as a youth worker I have always ensured young people had the opportunity to access public art spaces. Some of my interests are community radio, community volunteering, reading, theatre and music. I will continue to push the agenda of community arts and access to public spaces and honest representation.