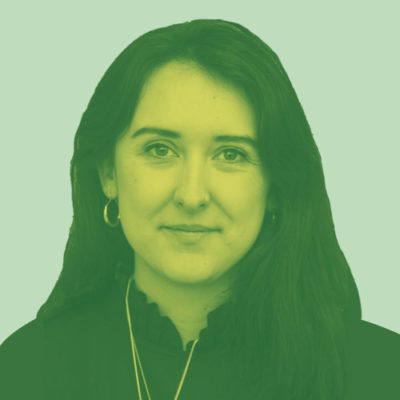 Alice Parsons
My involvement with the BNMP began as soon as I joined the museum in 2018. A senior manager told me, in my first week on the job, that I would be project managing an upcoming exhibition which formed part of the research. The show that was to become Above the Noise: 15 Stories from Bradford quickly took over a large part of my working time and, shortly after, my out of work life too.
A couple of weeks before Above the Noise opened, I was out in Bradford at a friend's workplace, the exhibition poster proudly displayed in the window. Another customer began discussing the show, speaking of how they were involved in one of the fifteen stories and how the process had been for them. I should say that at this point, despite being the exhibition project manager, I had not yet developed a personal relationship with every collaborator (this is a point for another day, but one that comes to my mind often). This person was one such collaborator, who I hadn't met before. Our mutual friend in the space introduced us explaining to the customer, an activist in his 60's, that I was working on the show. A difficult conversation followed.
In response to his experience and his criticisms we spoke about the project, the museum and the exhibition. Before the hour was up I'd say we were friends. Since our first meeting, this critical friend has joined museum staff on the picket line, attended Black Lives Matter protests with me (at a social distance) in lockdown, and written me book lists. This is just one of numerous relationships like it.
I feel I should say at this point that I've always been a keen believer in keeping work at work, and hope the reader doesn't think I am advocating for having no boundaries. We make friends with collaborators, designers, colleagues, artists all the time and this in itself is not special or rare. But the fact that these friendships were actually founded somewhat on shared frustration narrowed the distance between us. Rather than widening the space between the museum and its partners – and in turn between us as people, not just representatives of institutions or ideas – through working and learning together, we built relationships.
This experience of honesty and of communicating respectfully stayed with me as the project developed. I recall articulating a frustration I was having at work during a meeting for another project. One of the BNMP partners I had worked with closely for around a year responded in shock. He hadn't heard many museum staff share some of the frustrations that people external to the museum feel.
The museum may be my workplace, but it is also my civic museum, I too am a citizen of Bradford who needs things from the museum outside of my employment. I've been committed ever since to not only meeting people on their terms, but to being honest and brave about my own.
Read responses to Alice's moment
Alice Parsons's bio
In my role as Interpretation Manager at the National Science and Media Museum I work with a brilliant team to develop how we tell stories and oversee bringing those stories to life through exhibitions, partnerships and events. I am particularly passionate about social justice, working with artists and responding to the everchanging role museums can play in society.
I am an alumna of the Weston Jerwood Creative Bursaries Programme and advocate for fair recruitment practice and better opportunities for development, support and equity at all levels of employment.
I have been involved in Bradford's National Museum Project since joining the museum as Creative Producer in 2018. I worked as the Project Manager for the gallery show Above the Noise: Fifteen Stories from Bradford in 2019.
Although I live and work in Bradford, I am also a trustee at Open Eye Gallery, in my home city of Liverpool, where we focus on socially engaged photography practice. As well as being a photography lover, I am a keen reader and spend a lot of my free time trying to get better at gardening and cooking, making playlists and wandering Peel Park.